From: Bret Thomson,From Nut & Bolt Super Geek, to Whiz-kid Copywriter Come Best Selling Author and "try-hard" Public Speaker – and easily the proudest Dad on the planet!
To: Anyone In Business (or thinking about it) wanting to rake in piles more money by following a simple step-by-step system that even my 11-year-old son can follow.
Subject: A "No-Brainer" shameless offer for you to exchange "peanuts" in comparison to a simple warp-speed system for writing emotional direct response Kick @$$ Sales Copy... that has made millions of dollars for my clients... Set me up for life... and could do the same for you too...

I've got some cool news for you...
If you're a skim reader who "NEVER" reads these looooong sales letters... then I'm gunna make it super easy for you, okay?

I'm assuming you've watched the vid above, yeah? Cool. If not - here's a summary for you in bullet points:
I was born at a very young age
Went to school to learn stuff
Decided to socialize instead
Left school and partied very hard
Got a job to support my party life
Was Blessed from above with twin boys (my best mates)
Started reading personal development books
Kicked off several business ventures. Failed.
Discovered emotional direct response copywriting and made more money than ever before (at home)
Created a system that almost anyone can follow to also make piles of money at breakneck speed.
Now that wasn't so hard was it? Well done for making it this far *tongue-in-cheek* - But there's more to the story you need to know... Here's the scoop...
It's no secret that I'm going to try and convince you that YOU'D BE A FOOL if you didn't grab a copy of my "7hour Sales Letter Workshop"
Am I being a bit forward? Damn right – and with good reason...
You see, for yonks and yonks (real measure of time), I was like you... sitting in the audience listening to all these "superstars" on stage...
Or looking at all these "internet freaks" (that's a compliment in my world by the way) who were like... seemingly winning the lottery every week online.
My mind was spinning at how easy it seemed for them to make obscene amounts of money...
And ya know what? I reckon I've bought and tried nearly everyone of those things overtime... but it just never seemed to work for me?
So I went back to the basics and tried to grow my OWN business (novel thought) instead of chasing rainbows...

...Despite the advice from marketing geniuses Mal Emery and Andrew Grant...
I'll show them I thought. Didn't they realize that I've read more personal development books than 100 men?
I mean, really...

You know what I'm talking about don't you?
"If you follow your passion, the money will come"... right?
WRONG! Guess what?
They were right. Sure, you can feel chuffed following your passion... probably the best feeling ever actually.
But my kids were getting pretty sick of eating wheat bix for dinner... know what I mean?
You've gotta know marketing. Period. Well, direct response marketing actually.
So at a last attempt to crank my business up a few notches (well, the first notch anyway), I found myself listening to Aussie copywriting legend, Pete Godfrey.
And just like Mal said from stage...


The art of writing compelling words on paper... better known as "Emotional Direct Response Copywriting"
Is it sexy? Nooooo
Is it like swallowing a magic pill that makes you money? Nooooo. You're on the wrong website for that my friend.
Is it fun? Believe it or not... it can be (if you know how)
And can it make a difference in your bank account? Hell YES!!!
In two ways.
If you're a copywriter (or maybe you're
thinking about it) then...

While everyone's grazing their knees, bent over sifting through dirt trying to find specks of gold...
I'm going to give you the skill to supply bright shiny stainless steel titanium shovels that'll attract droves of eager clients who will happily wait in line – money in hand – waiting for your services.
If you're a business owner or sell stuff
online. Here's my unbiased take.
Doesn't matter how good your product or service is...
Doesn't matter how fancy your website looks...

Doesn't matter how much traffic you're getting

It boils down to this...

Let me shift gears here for a sec...
Here's the bottom line: You want
to make more money and have a bettera lifestyle, right?
(Yes, I said "bettera" on purpose. You should know me by now)
| | | |
| --- | --- | --- |
| | You don't wanna feel burnt for buying something that'll just sit in your closet and collect dust again, yeah? | |
| | | |
| --- | --- | --- |
| | You're probably time poor and stretched to the hilt and didn't really feel like learning ANOTHER new skill? | |
| | | |
| --- | --- | --- |
| | But you want the tables to turn – You want to FINALLY get paid what you deserve. You want to reward your family with their dream lifestyle... true? | |
Look. I get that. I sooooo get that. Believe me...
And you know what... here I am now... sitting in a little apartment in Perth... a few hours away from speaking at another seminar... tapping away on my Macbook laptop – It's 6:28am in the morning...
And I'm trying to some how make a difference in your life... by showing you how I changed mine...
I want to let you know something...
After 10 looong years of bashing my knuckles on the door of success...
The door finally opened.
And I guess... as weird as it sounds... I'm on the other side of the door now... and I'm keeping the door ajar for you to come in.
BUT NOT WITHOUT SOME EFFORT -That wouldn't be fair (joke)
Maybe you're like me?


Maybe, you've shared countless sleepless night...with me... just lying there... thinking... "Why hasn't it happened for me yet?"
"Doesn't make sense? Lord knows I've tried so damn hard..."
Maybe you've also got family and friends who've sat on the sidelines and watched you relentlessly chase down success...
(At times people thought I was crazy... I could've been chasing an invisible rogue unicorn for all they knew)
But as a parent...


But you know what? All that energy that you've spent over the years... It has NOT been wasted.
It's been stored.
And when you find your "sweet spot" - boy does it come back to you – tenfold.
So I want to pass on to you... right now... the very skill that has made all the difference in my life...
And the skill that has made millions of dollars for my clients too...
And the good news is: It's a learnt skill. Some will pick it up faster than others... but either way...
Follow my system as I teach you... and you'll stack the odds in your favour, I kid you not.

At the very worst, you should be making more than enough money to pay for this course in no time flat.
So here we go...
| | |
| --- | --- |
| | Ohh wait... STOP... before you get started, let me just cut in here for a sec... Remember when I said in the video that I wasn't going to throw in any bonuses that were just "FLUFF" |
Well, that's true. But I did throw in some extra bonuses that weren't mentioned on the video that will totally put you in the game of writing Kick @$$ Winning Sales Copy. Hope you don't mind
Here's a re-fresh... Under pressure... I had to develop a system for writing top quality sales copy in a crazy superhuman ridiculous time period.
I've called it the "7 Hour Sales Letter" But it's soooo much more than just writing long form sales copy.
I'm already convinced and want to get started (click here)

The skills you'll discover here can transcend to
Face-to-face selling
Picking up at bars
Video and audio script writing
Talking your way out of speeding tickets
Advertising secrets that actually work
Selling on the phone
Hope and confadence afta seeing my spelling mistackes
Writing compelling emails that get opened
Getting your kids to do what ever you want
Ways to come up with your "Million Dollar IDEA"
Writing copy that'll make your clients eyeballs stick to the page
Have an unfair advantage on your Google ads
So here it is....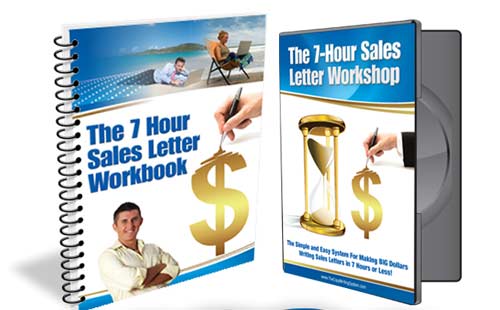 In a nutshell – Once I tested this formula for speed writing world-class copy... I decided to see if I could teach others.
The story: Good friends and mentors of mine, Andrew and Daryl Grant promoted this event to their high-paying coaching clients who were all paying a minimum of $6000 per year or $500 a month.
So it was a very sharp bunch...
The idea was to cram as many people as we could into a room – all with laptops – and get them to write a long form sales letter in "REAL TIME" over two days..."
And they did it!!!!


But they did it... (I knew they would... I've made it so easy, hey...)
Some were saying it was the best seminar they have EVER been too. True story.
But that was my mum, and it was her first seminar. But still...
Look, I know most of us just scroll straight through testimonials... because we know they're all gunna be positive hey?
But PLEEEASE take 30 seconds to read a few of these, they are incredibly special too me and give me goose bumps every time I read them...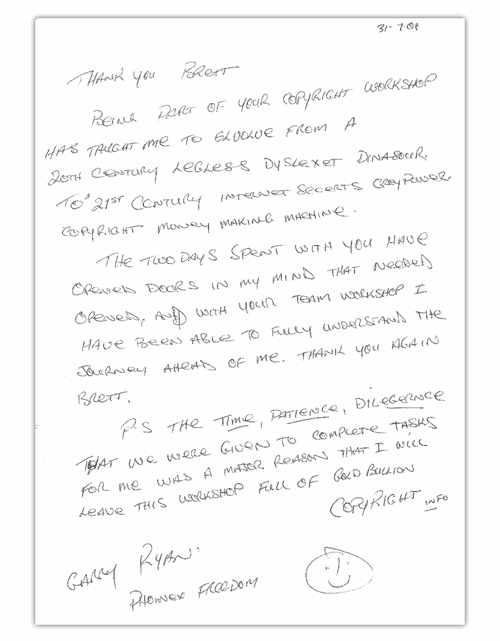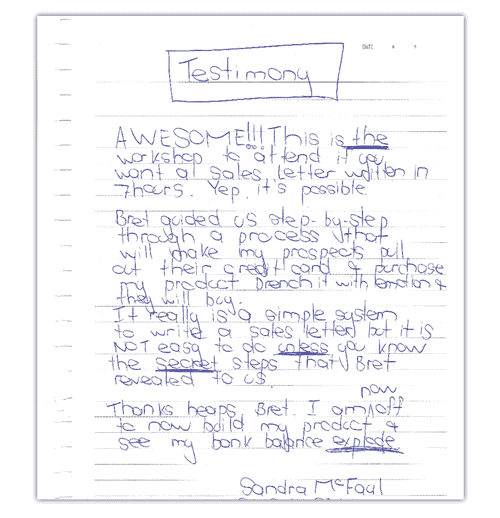 STOP!! Did you read any of those beautifully hand written testimonials back then?

How rude. Do you know how long it took them to write those? Come on... You've gotta read at least a couple.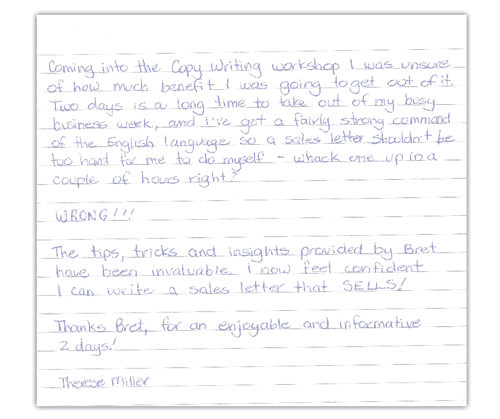 Do you know how long it took me to format these little puppies into the word doc? Don't tell me I wasted my time!!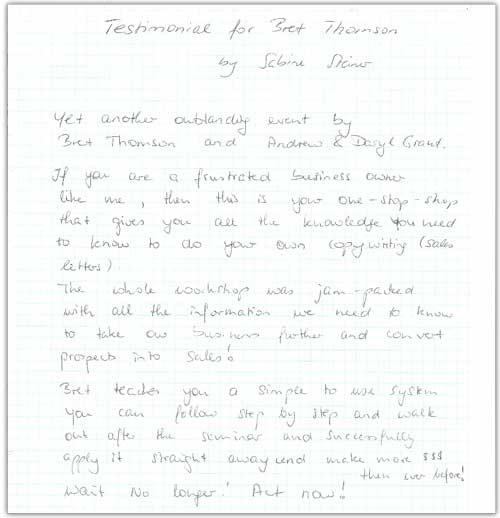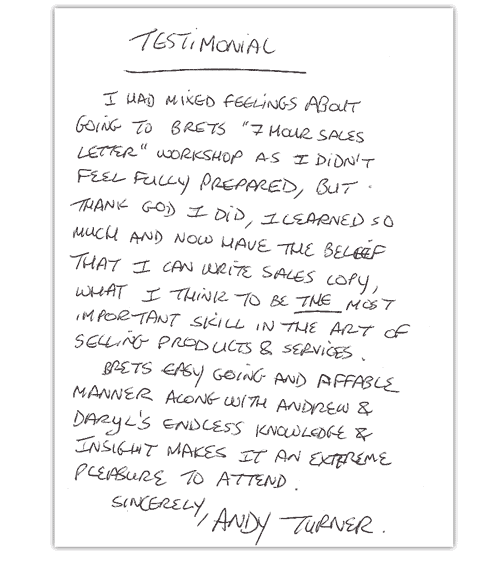 Looks great - I want it now & I've seen enough (Click here)

Super-Cool FREE GIFT BONUS #1
Secrets of How Pro Copywriters Find The Hook,
The Twist and The Million Dollar "Big Ideas"

Sticking to my promise... I'm not going to give you bonuses that are just "fluff"
There's a reason why I'm giving you this bonus, and you'll thanks me after you've gone through it...
You've heard me say it before but I'll say it again...
"You are just one BIG IDEA away
from your Million Dollar Pay Day"
I bet you didn't know this? But us pro copywriters will typically spend 80% (or more) on the researching...
Digging up the story behind the story --- the twist that separates you from the rest of the pack --- the hook that jumps off the page and grabs your prospects by the throat and pulls them into your offer...
Sometimes the "big idea" for your business could be right under your nose... maybe your too close to it?
Regardless... this special free report I've created will get your thinking on the right track! Sound cool?
Super-Cool FREE GIFT BONUS #2
"How To Critique A Sales Letter And Plug The
Holes In Your Leaking Bucket"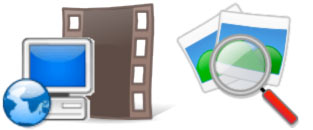 I'm expecting to cop a bit of flack for this one... Why? Let me tell you...
For me to go through your sales letter and give you a critique... It'll cost you over a thousand bucks – some guys charge a whole lot more! And you know what? The smart business owner knows that that's a pretty sweet deal really...
Just one small improvement can totally change the numbers in your business. So yeah... it's THAT important!!
So what if I could teach you the tools of how to critique your own sales letter?
Well, you can watch a video of me critiquing a sales letter PLUS a special checklist to follow so you can fine tune your sales copy to pull maximum profits.
it's a really easy when you know how... a very valuable (and necessary) and profitable skill to have. With my compliments...
Super-Cool FREE GIFT BONUS #3
"The Ultimate Graphics Resource Pack"
"Almost every kind of graphics you'll ever
need at your finger tips – ready to go"
Here's 1600 different images you can use to make your sales copy look really funky and professional at the same time! Here's what you get...
Guarantees, offers, opt-in templates
Bullets, website templates
Arrows, stars, discounts, numbers
Miscellaneous images, cartoons
Order now buttons, download buttons
Images of people, computers, discounts,



Go on, I dare ya – It's as good as it gets!
I mean that 3-day event by it's self is good enough reason to hit the ADD TO CART button and start punching in your payment details.
So what are you waiting for?
Clicking on this link to order could make you more attractive to the opposite sex
Like I said in the video... I could have easily sold this program for $3000.00 and it would've been a bargain in anyone's language...
Especially considering that the people in the room had each paid $6000 per year as high-end coaching clients...
Not to mention me investing well over $80,000 in my education in a short amount of years...
And considering that this skill could totally transform your sales conversions i.e. mega bucks in your bank account.
And not forgetting that you could EASILY use this program to write other peoples sales letters and get paid $2000, $3000, $5000, $10,000, $15,000, $20,000 or more as an "In-Demand Kick @$$ Copywriter"...
So I figured a fair price for both of us would be $997.00.
And look - even if you want to take 4 months to pay the thing off – then all you need to do is pay 4 x $297.00
You can thank me later... Click the link below and start the ball rolling. You won't regret it if you do!
Sounds good to me, take me to the check out (click here)

Okay, so there are a few more components to a sales letter that are critical.
One of them is a guarantee so YOU feel comfortable with going ahead – so you feel you've got a safety net before you jump.
So here's mine:


Here it is... Grab my program – whip through the DVD's and workbook – and if you were not 1000% convinced that this program is everything that you thought it would be...
Then all you have to do is grab a big
black thick pen (one of those permanent
markers) – draw a big cross on every
single DVD and the workbook – then
send it back to me in the mail and I'll
give you 100% of your money back –
PLUS – I'll refund your cost for postage!
PLUS you can keep the bonuses as a way of
saying sorry for wasting your time.
Can't get any fairer than that, right? You see, these programs are going to FLY out the door! And any smart business owner would know this. So if you've watched my DVD's and didn't like them, then I'm NOT going to re-sell that pack to someone else. That's why I want you to mark them all with a cross for me, okay?
So really... as far as "no brainer" decisions go – then this is as good as it gets!
Let me wrap it up with a table to show you what a smart decision you're making:
You really really truly need to know this...

Square away a weekend if you can – avoid all interruptions (Do you're best here)
After you've gone through the first booklet and ticked off your checklist, then you're ready to start
Get your laptop or computer ready before you start the DVD's – get some healthy munchies and water
Open up your workbook and a spare pad for any other pearls of wisdom that fly out of my.... mouth
Start the program and sit back, watch, learn and be entertained.
When it's time for you to write – Do it. No excuses
Celebrate – Because at the end of the 2 days you will have completed a finely tuned ready-to-go sales letter in under 7 hours - plus a life long money making skill to be used anywhere and everywhere... anytime you like. Cool huh?
Everything you will receive
Real Value
Your Price
8 x DVD's of the Workshop
$3,000.00
$997.00
1 x Workbook & example folder
Included
Included
1 x Getting Started Guide
$200.00
Included
1 x "Finding the Big Idea" Report
$297.00
Included
1 x How to Critique a sales letter
$1000.00
Included
1600 x Graphics/Images Pack
$300.00
Included
TOTAL VALUE
$4,797.00
YOUR SPECIAL PRICE
Only $997.00
YOUR MASSIVE SAVING
$3,800.00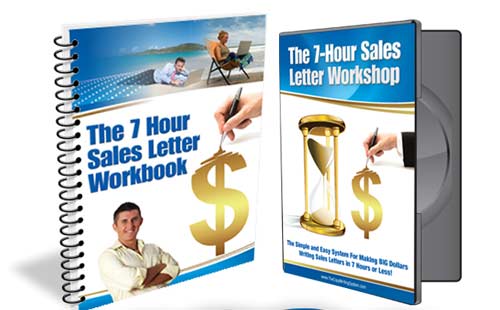 Final thought...
The skill I am about to share with you will not only make a swift and noticeable difference for you in your own business... but it will stay with you for life... and pay you handsomely when used correctly.
So what are you waiting for? This is not the right time to procrastinate. You're totally safe as... wrapped up in bubble wrap with my no brainer "better-than-money-back-guarantee"
The decision is a simple one really:
You either settle for average pulling sales materials – or – you learn the skills for yourself for writing million-dollar sales copy.
See what I mean about an easy decision? So go ahead and hit the button below. I'll catch up with you at the 3-day event – it's going to be an absolute blast!!
Think big. Be different.

Bret Thomson
P.S. So if you're in the business of selling a product or a service (hehe... that's everyone if you don't know) and you want to increase your sales conversions through the roof and crank on the handle of your profit tap so darn hard that it snaps off on FULL STREAM... then spend two days with me by watching this KICK @$$ "7 Hour Sales Letter Home-study Program" and start using these skills immediately to create your very own profit explosion!
Yes Bret, oh Jedi Master, teach me your powers now
P.P.S. This second P.S is to remind you of the awesome deal you're getting. The first P.S is always used to reiterate the headline (just can't help myself from teaching you cool stuff hey). So where was I? ohh yeah, your amazing deal – here it is again folks: Instead of paying the already bargain price of $4,797.00 – you can pick it up at a steal for only $997.00
Click here if you're super cool
P.P.P.S. The third P.S. is to remind people of your risk free guarantee. So here's mine again: Watch my DVD's and go through my workbook, and if you're not 1000% convinced that this course has met your expectations, then put a cross on every single item (except the bonuses, you can keep them) and ship it all back to me. I'll cover any costs PLUS refund 100% of your payment.
Did I mention this course will improve your sex life?
P.P.P.P.S. You don't really have to have a 4th P.S. – But you can use it for some emotional blackmail if you want? For example, you could say, "You'd be an absolute FOOL as a business owner if you didn't take this ridiculous offer" or something like that... But for me, I'm going to do something sneakier. (I might take this section completely out later on, depends what happens) – I'm going to test to see how many people have read all the way to the end. So if you click the link below and order my program, I will give you a full sales letter critique over the phone – just you and me for 20mins or more.– (just shoot me an email to confirm you're eligible for a 20minute phone session with me). If you want to know how many other people saw this secret link, then just ask me when we're on the phone and I'll give you the stats. It'll be good research for us all, don't ya reckon?